Contact Report 007 第007次接觸報告
接觸時間:1975年2月25日,星期二,下午6時02分
接觸地點:瑞士鄉間的森林
---
中譯者提要:
本報告分兩個部分,其中Semjase除了談到有關《以馬內利的教誨》(Talmud Jmmanuel)原始教義資料的相關事項,還談論到地球人種與人類的進化問題,此外還有說明有關「靈魂世界」的概念等,內容龐雜而深奧。
---
Synopsis/摘要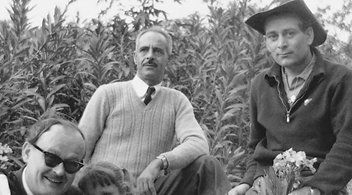 Semjase explains that individuals from the Plejaren Federation were in contact (see 'impulse-telepathy') with an Earth priest from the Greek Orthodox Catholic Church in 1956, who they helped along with his learning of the old Aramaic language. With their help he relinquished his religious faith and devoted himself to the task of translating Billy's archaeological discovery. He began getting talkative about the translations, and with what the Plejaren Federation had taught him, with religious folks. Eventually leading to him being hunted by them, he went on the run. Later he was attacked and unfortunately three-quarters/¾ worth of the original archaeological discovery was destroyed.
Semjase解釋說,Plejaren聯邦曾於1956年與地球上「希臘東正教天主教會」(Greek Orthodox Catholic Church)中的一名牧師(就是M. Rashid;上圖中間那位)有所接觸(見《脈衝式心靈感應》),他們協助他學習了古老的阿拉米語(Aramaic language)。在他們的幫助下,牧師放棄了他原來的宗教信仰,致力於Billy考古發現資料的翻譯任務。在Plejaren聯邦對他進行了相關的教導下,他開始與宗教界人士談到翻譯的事。但最終導致他被他們追捕,而他則繼續逃亡。後來他遭到襲擊,不幸的是,有四分之三的最初考古發現資料被毀損掉了。
They later talk about the fraud of parapsychology, mental powers and spiritual healers. Semjase also says a small amount about how they've been positioning him. Other subjects include 'Adam', EVP and 'Spirit Music' also mentioned.
他們後來談到有關「超心靈學」(parapsychology)、心智力量和一些靈性療癒者(spiritual healers)的欺詐行為。Semjase還說了一點關於他們是如何選定他的。其他還談到包括「亞當」(Adam)、「電子聲音現象」(EVP;Electronic Voice Phenomenon)和"靈魂音樂"(Spirit Music)等話題。
This is the entire contact.
這是篇完整的接觸報告。
【切換到《中譯版》】
---
Billy:
You called me yourself today. Evidently, you have to tell me something important, Semjase?
妳今天親自叫我,Semjase,顯然妳要告訴我一些重要的事?
Semjase:
1. So it is, but you must remain silent over this: …
是的,但是這些事你一定要先保持沉默。
Billy:
Good, Semjase, I will do as you wish – and I will remain silent over that.
好,Semjase,我會照妳的話做 —— 保持沉默。
Semjase:
2. So now, I want to tell you something that will surely please you:
那麼現在,我先說一件你會很高興的事。
3. Soon, I will receive a new beamship, which you can then also photograph at close range, in order to get rather good photos.
很快我就會接收到一艘新的飛船,你可以在近距離拍照,而得到更好品質的照片。
4. Unfortunately, the automatic beams are still installed in my current ship, which would destroy your films up to about 100 meters away, that is, exactly 90 meters away.
較不幸的是,我目前的飛船安裝了自動光束裝置,它會在約一百公尺(準確的說,是九十公尺)範圍內毀掉你的膠卷。
5. The radiation isn't harmful to living organisms, but as I said, it would destroy your films.
雖然放射線不會對生物造成傷害,但是它會毀掉你的膠卷。
Billy:
Excellent, I'm looking forward to it already. May I then also capture the interior, etc. on film and take the flight with you, which you have promised me?
太棒了!我已經期待很久了。我可否同時拍攝飛船內部,並和妳一起乘船飛行,這是妳曾經答應過我的?
Semjase:
6. You may take the flight when the time has come for it, but I may not allow you to take even a single shot inside of the beamship.
到時候,你可以乘船飛行,但是我不能允許你拍攝飛船內部。
7. Maybe at a later time, which I don't have to decide, however.
或許以後吧,但是我還沒決定。
8. At a later time, you may then, perhaps, also take a picture of me.
過些時間,或許你還可以拍一張我的照片。
9. But for the time being, this is not yet under discussion, and maybe it also can't be, because very specific reasons don't allow this yet or not at all.
但是目前來看,這還不是討論的時候,或許不能,因為有很多特殊的原因不允許這麼做,甚至完全都不可以。
Billy:
Alright, Semjase, I don't want to urge you. It is enough for me when you say that it is like that. You also don't need to tell me the reasons, for they must surely be important, and thus, you also may not mention them, perhaps?
好吧Semjase,我不想為難妳,妳這麼說就已經足夠了,妳不需要告訴我原因,對它們來說這必定是很重要,因此,妳不用再提那件事了,或許吧?
Semjase:
10. They are important, that's right.
這些事的確很重要。
11. But you are mistaken in that I may not mention them to you.
但是你誤解了,我或許沒有對你說明白。
12. It's just that you may not pass them on, so you would have to keep them for yourself.
你只是不能將它們傳遞出去,你要自己保留這些訊息。
Billy:
I already understand, and thus, you also shouldn't tell me the reasons.
我明白了,所以,妳同樣不能告訴我原因。
Semjase:
13. You are very sensitive.
你相當善解人意。
14. But now, I would like to ask you not to forget my task.
但現在我要請你不要忘記我的任務。
Billy:
Certainly not; also, how could I? – But do you already want to go again?
當然不會;我怎麼可能?難道你又想要走了?
Semjase:
15. No, I only asked you again because it is very important.
不,我只是再次拜託你,因為它太重要了。
16. I actually have time today, and indeed, a little more than usual.
我今天其實有時間,確實比平時還要多一點。
Billy:
That pleases me, for thus, we can chat once in peace.
這讓我很高興,所以,我們可以再一次從容的聊聊。
Semjase:
17. I am also pleased about it because it is very soothing for me to talk with a person like you.
我也很高興,因為可以和你這樣的人說話使我很愉快。
18. You have a way about you that is very pleasant to me, in a very peculiar way.
你有你的方法使我很開心;一種很獨特的方法。
19. And also your often extreme trains of thoughts and your philosophy attract me.
而且,你那一系列特別的想法與你的人生哲學,常常吸引我。
Billy:
Do you now just have to make me a marriage proposal, Semjase?
妳現在是想向我求婚嗎,Semjase?
Semjase: (laughing loudly) (大笑)
20. Exactly; we would make a nice couple.
是啊,我們會是很好的一對。
Billy:
One just has to have ideas... ideas, Semjase!
一個人絕對要有想法… 想法,Semjase!
Semjase:
21. You certainly aren't lacking in those, and also not in your peculiar sense of humor.
你肯定不缺,你獨特的幽默感同樣不缺。
Billy:
But unfortunately, my humor is often perceived as a serious matter.
但是很不幸,我的幽默通常被認為是一個嚴重的問題。
Semjase:
22. You are just way ahead of your time and think in other dimensions.
你只是超前你的時代,而且以其他層面思考。
Billy:
I've already considered that myself, but whether that is actually so, I don't know how to judge that.
我自己有考慮過,但實際上是否這樣,我不知道該如何評論。
Semjase:
23. Don't be so modest, for you know it exactly.
不要太謙虛,這個你很清楚。
Billy:
Alright, but don't we want to talk about something else?
好吧,但是我們不來談點別的嗎?
Semjase:
24. That is typical for you, but you're right; let's talk about something else.
這是你的獨特之處,但你說得對,我們說些其他事吧。
25. First, I would like to answer your question which you asked me last time: M. Rashid was one of our contact people since 1956.
首先,我想回答你上次問我的問題:由1956年起,M. Rashid曾經是我們其中一個接觸對象。
26. As you do know, he was a priest of the Greek Orthodox Catholic Church.
你知道,他曾是天主教希臘正教的一名神職人員。
27. We engaged him to take several things in hand, which he also promised to us that he would do.
我們把手頭的幾件事委託他,他同時也向我們保證他會做。
28. Thus, we thought that he would be the right man to solve a very difficult task.
如此,我們想他會是正確的人選,可以解決一個非常艱鉅的任務。
29. Consequently, we showed him the spot where he could have found the "Talmud Jmmanuel," but which you then found - that original script that Judas Ischkerioth had written during the lifetime of Jmmanuel (Alias Jesus Christ).
因此,我們告訴他那個地點;你後來也找到的《以馬內利的教誨》(Talmud Jmmanuel);就是可以找到猶大[中譯者註:也就是加略人猶大;那位普遍認為出賣耶穌的人]為以馬內利(也就是耶穌基督)的一生,所寫下最初手稿的地點。
30. Through our help, he learned the Old Aramaic language and was thus able to translate the scripts.
透過我們的幫助,他學習了古老的阿拉姆語,並因此可以翻譯那手稿。
31. He did this very correctly and made a German language translation that is, indeed, well known to you.
他做得很正確,而且完成了一個德語的譯本,這你是知道的。
32. Through the reading of the original scripts, M. Rashid succumbed to pangs of conscience and suddenly no longer knew what he should acknowledge as truth.
透過學習最原本的手稿,M. Rashid被良心的譴責壓垮,突然間他不知道應該承認什麼才是真理。
33. Outwardly, he announced the feigned conviction that he would be faithful to the Talmud, but in reality, religion was too deeply rooted in him, and he suffered from pangs of conscience.
表面上,他假裝說他會忠於耶穌的教誨(Talmud),但事實上,宗教已經深入他的骨髓,他受到良心的譴責。
34. This, then, was also the reason why he officially withdrew from his religious faith and devoted himself only to the task of translating the aforementioned script, which he did very correctly, in spite of everything.
這也是他正式撤回宗教信仰的原因,而只忠於自己翻譯上述手稿的工作,這件事他做得十分正確而義無反顧。
35. But as I said, he was not convinced and never knew what he should do.
但是正如我所說,他並不確信而且從來不知道他應該怎樣做。
36. To this end, he lived in constant fear that his scripts, which he found, could be discovered and could become known, so as a precaution, we had to bring him into connection with someone who knew no fear and who ensured us, by his character and his knowledge, that he could secure the scripts, so, therefore, you.
最後,他因為擔心找到的那份手稿,可能會被別人發現而惶惶不安。為了防範未然,我們不得不帶他去聯絡一個人,那個人無所畏懼,而且以他的人格與所知的一切向我們保證,他可以保護那份手稿,而那個人就是你。
37. But unfortunately, M. Rashid became ever more entangled in his fear, and he began divulging things which could become dangerous for him and the Talmud.
但是很不幸,M. Rashid在他的恐懼中陷得更深,而且他開始洩露可能會為他與那手稿帶來危險的事。
38. He took it so far that by the middle of 1974, he had no choice but to flee from Jerusalem and to retreat into Lebanon, where he lived in a refugee camp under a false name - together with his family.
1974年年中,他帶著那些手稿,在不得已的狀況下逃離耶路撒冷並退避至黎巴嫩,在那裡,他使用假名與他的家人一起住在難民營裡。
39. But he also had to flee again from there and left the country.
但隨後又不得不再次由那裡逃離,並離開他的國家。
40. His fear, however, was to blame for the fact that he enclosed all the scripts in a wooden wall, where they were completely destroyed by a fire only a few hours later, when the Israeli military invaded.
然而,由於擔心害怕,他錯將所有的手稿密封在一面木製的牆內,而它們在以色列軍入侵後,被幾小時後的一場大火所燒毀。
41. Therefore, it was his fault that everything was destroyed.
所以,這是他的錯,所有東西已經被毀了。
42. But actually, it is also our fault because we trusted him far too much and expected too much of him, through which the most valuable evidence could be destroyed, which could have one day revealed the untruthfulness of the Christian sect and all other sects and religions associated with it.
但是事上,這同樣是我們的錯,因為我們太過相信他,並且對他寄望太高,以至於其中最有價值的證據被毀;那有朝一日,可能揭發有關基督教以及所有其他教派不真實面的證據已經被毀。
43. But there still exists a good quarter of the script in the German version, and it will also be sufficient to bring the truth to light and to free the human being from a deadly delusion.
但是,好在仍然有四分一完好的德語版本手稿保存下來,它同樣足夠帶來真理與光明,並將人類從致命的迷惑中釋放出來。
Billy:
So that is so.
所以就是這樣。
Semjase:
44. Sure.
的確。
Billy:
What is M. Rashid doing now?
現在M. Rashid在做什麼?
Semjase:
45. We broke off all contacts with him when he fled with his family from Lebanon and left the script for destruction.
當他與他家人一起逃離黎巴嫩並遺棄手稿使它被毀時,我們就斷絕了所有與他的接觸。
46. We only know that he was most recently in Iraq.
我們只知道他最近在伊拉克。
47. From then on, we were no longer interested in him.
從此,我們已經不再對他有興趣。
48. He and his family have lost themselves somewhere in the world, just as he also lost his real name.
他和他的家人已經在這世界上迷失了自己,就如同他失去真實姓名一樣。
Billy:
What should he be called now; is his name not M. Rashid, then?
他現在叫什麼名字;他現在不叫M. Rashid,然後呢?
Semjase:
49. No, because only his cousin is called that.
不,因為只有他的表親是這樣稱呼他。
50. I didn't mention his real name officially because he might use it again, just as he also bore it as a priest.
我沒有正式提及他的真名,因為他或許可以再用此名來擔任一位神職人員。
51. We are not hostile-minded toward him, in spite of everything, and wouldn't want to cause him any trouble; that's why I wouldn't like to mention his name openly.
我們對他並非敵對態度,無論如何,不希望為他引來任何麻煩;這是我為什麼不想公開提及他名字的原因。
Billy:
Alright, Semjase, I also don't want to know him.
好吧,Semjase,我同樣不想了解他。
Semjase:
52. You aren't curious at all? Nevertheless, you know the real name.
你都不好奇嗎?雖然,你知道那真名。
Billy:
Otherwise, here and there I am, but when I don't want to be, then I'm just not. With your allusion, however, did you mean the first name or given name that begins with an "I" ?
要不然,我就會到處打聽了,但是當我不想要,我就不要。然而,依據你的暗示,他是指那以I字開頭的名字?
Semjase:
53. You are sincere.
你說的是實話。
54. Yes, that name is meant.
是的,那名字是這意思。
Billy:
Thank you, but were you also sincere when, during our last conversation, you kindly positioned me under the 4th main stage and the 5th substage? I find that somewhat pompous and fantastic for me. If I let that be published, then one will insult me as a megalomaniac and a liar.
謝謝妳,但是我們上次會面時,妳好心地把我分類在第(4-5)階段,不知妳說的是不是也是實話?我發現對我而言有些浮誇和怪異,如果我發表出去,有人會羞辱我是一個自大狂和騙子。
Semjase:
55. Do you think, then, that I lie, as you call this?
那麼你是不是認為這是如你所說的,一個謊言?
Billy:
Not directly, Semjase, because I would rather like to say that you might be kindly swindling me.
沒有那麼直接,Semjase,我寧願這樣說,妳或許是善意的騙我。
Semjase:
56. I have no need for such things.
我不需要這樣做。
57. I don't lie to you, and I don't swindle you.
我沒有對你說謊,而且我沒有騙你。
58. Such is really far from me.
這對我來說太遙遠了。[中譯者註:意思是她不會說謊]
59. Should your fellow men insult you as a liar or as megalomaniacal, this will never hurt you.
如果你的同胞們羞辱你是一個騙子或者自大狂,這永遠不能傷害到你。
60. The main thing is that you are very much ahead of your time and all people around you and actually have to be classified into the aforementioned stages.
最主要的是你已超前你的時代太多,而且所有你身邊的人,實際上都要被分類在前面提到的那些階段。
61. This alone is important because it is your advantage.
這本身是非常重要的,因為這是你的優越之處。
62. You know very well that you appear to yourself as a stranger in this time and in this world.
你很清楚,你自己在這個時代中,就像是一個陌生人。
63. In this, you have the best proof that your classification is correct and that this is no evil or friendly joke.
於此,你有最好的證明,你的分級是正確的,而且不是惡意或者好心的玩笑。
64. Your spirit and your knowledge as well as your consciousness are very far developed in reference to the spiritual teaching and spiritual interests and don't find their equals on the Earth; only, this is an unsolved mystery to us.
你的靈魂和你的知識以及你的意識都發展得非常久遠,而且與地球上的靈性教育與靈性關注並不一樣;這對我們來說是一個不解之謎。
Billy:
Should I now laugh, cry, curse, or be grateful?
我是應該笑、哭、詛咒還是要感激?
Semjase:
65. None of everything; you just have to accept the fact, nothing else.
什麼都不用;你只要接受現實就夠了。
Billy:
I give up; otherwise, I'll go insane.
我認輸。否則,我會發瘋。
Semjase:
66. A life form with your spiritual and consciousness-related state can no longer become insane so easily, if vicious, external force isn't used.
在你這個靈性與意識階段的生命形式,如果不使用惡意的外力,不可能就那麼容易發瘋。
Billy:
Then just not – I give up, really.
不會就不會,我認輸,真的。
Semjase:
67. That you won't, because you yourself know very well that it is actually in such a way as I say.
你不會,因為你自己知道得非常清楚,這是真的如我所說。
Billy:
Man oh man, of course I know that, but why must we always just talk about such things that I know. I know this now, and that should be enough.
噢天哪,我當然知道,但是為什麼我們一定要討論這些我知道的東西,我現在知道了,而且夠了。
Semjase:
68. Don't get excited; I know how bad you often feel because you can't talk to anyone about it.
不要激動;我知道你平時有多難受,因為你不能與任何一個人談論這些。
69. Thus, you are also lonely in this world.
因此,你在這世上同樣感到很孤獨。
70. But you can talk with me about everything because I understand the sense of your words and thoughts.
但是你可以跟我說任何事,因為我明白你的言辭與思想的意義。
71. Accustom yourself to this; then, you will no longer excite yourself.
你要習慣於此;然後,你就不會再激動了。
Billy:
Thanks, I will try, even though it will be damn difficult.
謝謝,我會嘗試,雖然這會他媽的很困難。
Semjase:
72. I think that I will now go again, for I wouldn't want to burden you.
我想我現在要再次離開了,因為我不想加重你的負擔。
Billy:
That's nonsense, because for the first time in my life, I feel really good. It also seems to me as though we've already known each other for thousands of years. I am really very happy.
胡說,這是我生命中第一次感覺這麼好,在我看來,我們好像已經彼此認識好幾千年,我真的很高興。
Semjase:
73. Then it's fine.
那好吧。
74. Shall we talk, then, about something else, or shall I tell you the history of mankind?
我們可以談談一些其他事,或者我可以告訴你人類的歷史?
Billy:
That can still wait, because through our word-fencing, I've bumped into entirely different thoughts.
還可以再等等,因為我們的談話激發,我無意中有完全不同的想法。
Semjase:
75. As you wish, I make no rules for you.
如你所願,我沒有給你任何限制。
Billy:
If others had just a small part of your understanding, then life wouldn't be difficult so often. But let's leave this now because I really have a question: I deal a lot with parapsychological problems and often bump into things that are great mysteries to me. But on the other hand, some people are known to me by name and reputation, who bear some of the doctors' titles and even professors' titles of parapsychological degrees. In long-winded speeches, they often try to make any parapsychological phenomena plausible to the laymen, whereas I often designate these explanations as acute spinning and even as idiocy because they cannot claim any understanding from me. What should I do about this, as this is often heavily felt by others?
如果其他人有妳這麼善解人意,那麼生活就不會經常這麼困難了,但是我們現在不討論這個,因為我真的有一個問題:我處理很多「超心靈學」(parapsychological)的問題,而且常常碰到一些對我來說異乎尋常的秘密,但是另一方面,一些我知道他們名字並有名望的人,他們擁有博士的頭銜,甚至是超心靈學教授的頭銜,在冗長的講座中,他們常常嘗試做一些對外行人而言貌似真實的超心靈現象,反之,我經常都說這些解釋就像白痴一樣,因為我完全不能理解,那麼我要怎樣做,別人也會經常強烈地認為這樣嗎?
Semjase:
76. You shouldn't do anything against it, for in most cases, your view is correct, for you also have to perceive idiocy as such.
你不需做任何事去反對,大多數情況下,你的觀點是對的,你也有察覺到這樣的白痴行為。
77. Unfortunately, it is common with you that so-called scholars sit on some doctors' chairs and professors' chairs, who, in truth, are not scholars.
不幸地,那些坐在他們的博士位子和教授位子上的所謂學者,事實上,他們通常並不是學者。
78. A doctor or a professor of parapsychology, as you call this field, should also actually be a parapsychologist.
一個超心靈學博士或是教授,如你所說的這個範疇,實際上也應該是一個超心靈學家。
79. This means that such a scholar would have to have paranormal abilities; otherwise, he can't be called a parapsychologist and will also never be capable of bringing any basic insights into this area.
這意味著這些學者需要有超能力;否則,他將不能稱之為超心靈學家,而且同樣從未能為這個領域帶來任何基本的領悟。
Billy:
How does it stand with the so-called spiritual healers?
所謂的靈魂治療師是怎麼回事?
Semjase:
80. Countless of them are plain frauds and charlatans, who only rely on the firm erroneous belief of their patients and supporters, through which these heal themselves unconsciously and in a faith-related manner.
他們之中有數之不盡的根本是騙子,他們只是靠著他們病人與支持者的信任,因此,以一種與信仰有關的方式不知不覺中自癒。
81. However, there are also many who are actually capable of using their consciousness forces for the well-being of their fellow men.
然而,還是會有一些人,真正能夠運用他們的意識力量為他們的同胞謀福祉。
Billy:
May I also learn names?
我可以知道這些名字嗎?
Semjase:
82. Sure, but you should keep them to yourself, for at least in this respect, we don't want to harm deceivers and failures, in order to avoid further evil.
當然,但是你要自己保存,最起碼在這方面,為了避免更進一步的禍害,我們不想傷害欺詐者與失敗者。
83. But primarily, the greatest frauds bear the greatest and most respected names, while the real experts are usually as good as unknown.
但基本上,最大的騙子卻最享有盛名,而通常真正的專家卻都默默無聞。
Billy:
Thanks, that's sufficient. Names also aren't so important. But what would still interest me is this: have you ever heard of U. G., or is he somehow familiar to you?
謝謝,足夠了,名字都不太重要,但是引起我興趣的是:妳有沒有聽過U.G.,或者是妳已經對他非常熟悉?
Semjase:
84. We follow a lot of events on Earth, so we have also become aware of him.
我們探聽地球上很多的事件,所以我們也注意到他。
85. He possesses certain mental powers, but which he himself isn't able to control.
他具有某種心智的力量,但是他自己不能控制。
86. Any venture of his forces certain consciousness-related forces out of his fellow human beings.
所有他表現出的某些意識力量,是來自他旁邊的人。
87. This means that he activates the consciousness-forces of many people unconsciously, for he is unable to control this, and these people then, also unconsciously, provide him assistance in his venture.
也就是說,他不知不覺中激發了很多人的意識力量,因為他不能控制,而且這些人也在不自覺的狀況下,為他的演出提供了協助。
88. His own consciousness-related abilities wouldn't be sufficient for a venture.
他自己的意識能力並不足以完成表演。
Billy:
That's about what I supposed.
我猜想也是這樣。
Semjase:
89. Don't be so modest because I know that you've directly encountered the core of it.
不要這麼謙虛,因為我知道你已經直接觸及它的核心(秘密)。
90. You always present yourself as more unknowing than you are in truth; why?
但你卻總是表現出自己好像什麼都不知道的樣子;這是為什麼?
Billy:
So without his dear fellow human beings, he would be a zero and couldn't use his minimally developed abilities? Concerning your question, however, I wouldn't like to answer it.
所以沒有了他那些親愛的人類夥伴,他會甚麼都表演不出來,而且不再能運用他那低度發展的(心智)能力?另外,關於妳的問題,我不想回答。
Semjase:
91. Sure, that's it. –
當然,就這樣。
92. So then, if you don't want to respond to my question, then so be it.
那麼,如果你不想回應我的問題,那就不用。
Billy:
I've suspected this – I mean with regard to U. G.
我對此已經有懷疑;我是指U. G.。
Semjase:
93. You've known this.
你早就知道。
Billy:
Okay, I've known this, and I also believe to know that U. G. is a fraud in this matter, since he claims that he has been in a UFO. In my opinion, he heard about UFOs for the first time in America.
好吧,我早就知道,但我也相信,U. G.在下面這件事上說謊,因為他聲稱他曾進入過一架幽浮裡面,在我看來,他是在美國才第一次聽說過幽浮的。
Semjase:
94. Even here, you have inferred very accurately, for he has never even come into the vicinity of a beamship or ever entered one.
有些部分,你推斷得非常正確,因為他從未進入過甚至從未接近過一架飛船。
95. But he already heard of UFOs in Israel and not just in America, as you suppose.
但他曾經在以色列就聽說過幽浮,並非如你所說的只在美國。
96. A lot of people already know that he is a beamship fraud, however, and thus, his name is in the mouths of many.
很多人已經知道他所說的飛船是一個騙局,因此,他的名字經常掛在人們的嘴邊。
97. Therefore, we may still calmly call him here:
所以,我們或許繼續平靜地這樣稱呼他:
98. U. G.
稱呼U. G.。
Billy:
Isn't that unfair?
不會不公平嗎?
Semjase:
99. No, because he and his manager are willing to publish fraudulent contact reports, which can be seen here to be untrue through his name designation.
不會,因為他和他的經計人,願意出版那些假的接觸報告,都要透過他的名號。
100. It is, in fact, already enough that certain frauds like George Adamski and K. Michalek, etc. have driven many people into delusion and misery.
事實上,這些已經足夠了,另外像喬治.阿當斯基和K. Michalek等人,也令很多人上當和受苦。
Billy:
As you wish. – But now, I've brought along a whole list of questions – questions that were presented to me and for which I should ask you for an answer.
就按妳的意思;但是現在,我已經帶來了一整個表列的問題;一些向我提出的問題,而我需要向妳尋求答案。
Semjase:
101. Are these questions from your circle of friends?
這些問題是來自你的朋友圈?
Billy:
Yes – but these are also questions that often occupy myself.
是的,但是這些問題往往也令我很疑惑。
Semjase:
102. Very well, then ask.
非常好,那麼問吧。
Billy:
The most-mentioned question is whether I may also bring friends of mine, etc. to our meetings?
最多被問到的問題就是:我可否同時帶我的朋友等來我們的聚會?
Semjase:
103. That can't happen, unfortunately.
不能,很抱歉。
104. The reasons for this are well-known to you.
原因你已經非常清楚。
105. If I would allow that, then we could officially turn ourselves to the whole of humanity.
如果我允許的話,那麼我們就可以正式在全人類面前公開了。
106. But the fact that we have not yet done this and never will, I have already talked about this in detail.
但事實上,我們還未曾這麼做,而且永遠不會,我已經詳細說明過。
Billy:
Sorry.
對不起。
Semjase:
107. I only gave you an answer to your question.
我只是回答你的問題。
Billy:
The apology isn't for me but for all of those, for whom I have directed the question to you.
這道歉不是為我,而是為所有我代為發問的人。
Semjase:
108. Of course, I should have known that.
當然,我早該知道。
Billy:
My next question deals with the earthly human races. We have here yellow, red, white, brown, and black people; how does it work with them? Why are there these differing colors?
我的另一個問題與地上的人類種族有關,我們這裡已經有黃、紅、白、棕和黑人;這是什麼一回事,為什麼有不同的顏色?
Semjase:
109. This actually belongs in the history of Earth humanity, which I still wanted to pass on to you.
這其實是屬於地球人類的歷史,正是我想要告訴你的。
110. But I want to answer the question for you now, and I can spare myself these remarks later.
但是現在我想先回答你的問題,而我可以先省去(地球人類的歷史),晚點再提。
111. On Earth, there aren't just the five color races specified by you; it's just that the others are completely unknown to you.
在地球上,並不止有你列出的五種種族膚色;只是其他你完全不知道。
112. In part, they live in places where no human being has been able to find them yet, partly…
他們部分居住的地方目前仍未被人類找到,部分…
Billy:
Do you mean that they live, perhaps, underground, such as the assertion is that this is the case in Mexico, or that they live under domes in inaccessible mountains or inside of hills, about which also incredible things are told?
妳是指他們或許住在地下,就如墨西哥那邊所說的個案一樣,或者他們生活在難以進入的山區或是洞穴內,與那些難以置信的說法有關?
Semjase:
113. Sure, and here and there, these races also go into the world of the Sun and mingle with the surface inhabitants.
當然,到處都有,這些種族同樣會進入人類世界,與外面的居民往來。
114. Particularly in countries with many races, they aren't noticeable and can move around unencumbered, especially if they veil their faces in a nationally traditional way.
特別是在多種族的國家,他們不會被特別注意,而且可以輕鬆地四處走走,特別是如果他們在一些傳統以面紗遮掩臉部的地方。
115. It is even more difficult when their complexion is very striking, so for example bluish, who …
這會更難以被發現,雖然他們的膚色非常惹人注目,例如帶點藍色,他們…
Billy:
… live in the Indian area, yes?
… 住在印度地區,是嗎?
Semjase:
116. You know this?
你知道?
Billy:
I have eyes in my head.
我的腦袋有長眼睛。
Semjase:
117. Of course – but you've outrun me once again.
當然,但是你再次逃避我的問題。
118. But further, I wanted to say that some differently colored races already became extinct again a long time ago.
但是,我想說有些不同膚色的種族已經在很久以前滅絕了。
119. But they are all equally the product of the celestial sons, i.e. they were begotten of them, just like the still existing Earth races.
但他們都是外星之子,也就是說,是他們所生的,就跟現存的地球人種一樣。
120. The celestial sons or star travelers, as we will call our ancestors, were native to various planets of stars, in another space-time configuration or far away from the SOL system, where the planets were fundamentally different climatically; consequently, they also produced other races that were able to adapt themselves to the climate from the very beginning.
外星之子和星際旅者,正如我們稱之為我們祖先的,均是生於不同恆星內的行星,在另一個時空的結構中,或者離太陽系非常遙遠,那些行星的氣候基本上都不一樣;所以,各個種族為了適應當地的氣候,他們在剛開始發展時就有所不同。
121. Those who were climatically conditioned also developed suitable skin colors, of whom there are countless ones in the Universe.
那些由氣候而調整的人,同樣發展了適合他們的膚色,他們在宇宙中數之不盡。
122. The heights of their bodies were also different because, depending on the gravity of the respective planet, they ranged from only 50 centimeters tall up to several meters.
他們的身高也不一樣,因為根據各自行星的重力不同,他們的身高範圍由五十公分至數公尺不等。
123. There were and even are beings that you call giants, colossi, or titans, and such beings also once animated the Earth.
甚至有一些生物,你們稱之為巨人或泰坦等,而這些生物也曾經活躍於地球。
124. They also witnessed descendants here, but they were gradually wiped out because they were usually very malicious and exercised tyranny.
他們還在這裡留下後代,但是他們漸漸被消滅了,因為他們通常都不懷好意,而且暴虐專橫。
125. The different color races of today are, thus, descendants of our variously colored ancestors, who came from different planets of foreign stars.
因此,今天不同膚色的種族是我們各種膚色祖先的後代,他們來自不同的恆星內的行星。
Billy:
Then the current people of the Earth actually weren't solely created on Earth, and they also aren't descended from apes?
那麼現時的地球人其實不單單是地球原生的,而且他們同樣不是猿人的後裔?
Semjase:
126. Do you believe, then, in this Ape–Human Theory?
那麼,你相信這個「猿人的理論」嗎?
Billy: 比利:
I'm not stupid. My intellect tells me something different from the crazy brain of Darwin, who set this shower story in the world and fraudulently substantiated it with distorted ape bones, which has been concealed and kept secret by the responsible persons up to this day.
我不是傻瓜,我的理解力告訴我一些與達爾文那瘋狂的腦子不同的東西,他設計故事,並不實地以偽造的猿人骨骼來證實它,這已經被那些負責的人隱瞞並保密至今。
Semjase:
127. I didn't regard you as stupid…
我沒有把你當作是傻瓜…
Billy:
I didn't mean that in such a way; it's just a figure of speech to explain what I feel.
我不是這意思;這只是一個比喻以解釋我的感覺。
Semjase:
128. Oh, I see.
喔,我懂了。
129. Well, you're right with your view that the people of the Earth are not descendants of the apes.
好吧,你的看法是正確的,地球人不是猿人的後代。
130. They were partially begotten by our ancestors, who also mixed themselves with Earth beings, who were simply called "Evas" at that time.
他們有一部分是我們的祖先所生,並且是與地球當時被稱之為"夏娃"的生物混種過的。
131. A designation that means nothing other than…
那(夏娃)是一種稱呼,並沒有什麼別的意思,除了…
Billy:
… the bearing one or bearer.
… 懷孕的人或孕婦的意思。
Semjase:
132. Sure, but once again, you beat me to it.
當然,再一次,你搶在我之前說了。
133. How do you know that?
你是怎麼知道的。
Billy:
I also have my head for thinking and for combining, but on the other hand, I also know the Talmud Jmmanuel – somewhat more than just that which still exists in the German language.
我也有我的頭腦可以思考並結合起來,但是另一方面,我同時知道《以馬內利的教誨》 —— 比現在仍然存在的德語版本 —— 稍微知道得多一點。
Semjase:
134. Of course.
當然。
135. But the Earth beings at that time were of the most diverse forms and kinds.
但是地球生物在當時擁有大量不同的形式和種類。
136. In part, they were completely wild creatures of human-like forms, which had been partly exposed to earlier millennia on Earth by our ancestors, i.e. their descendants.
其中一部分,他們是完全野生的類人型生物(有部分在早幾千年以前,就已經被我們的祖先在地球上發現到)的後裔。
137. These descendants of the outcasts were abused by foreign space travelers, and these also mated, through genetic manipulation, with different animal species and witnessed genetically new life forms.
這些被放逐者的後代受到外太空訪客的虐待,並透過基因改造使其與不同的動物物種交配,見證基因方面的新生命形式。
138. One of these, by the way, is the ape being that is still known today, which represents a human-animal mutation, namely the Pan paniscus (Bonobo = dwarf chimpanzee).
順便一提,其中之一,就是今天仍然被認識的猿猴生物,這代表了人類與動物的變種,亦即倭黑猩猩(又稱矮黑猩猩、侏儒黑猩猩)。
139. Thus, the ape being is descended from the human being – not vice versa.
因此,猿猴生物是從人類而來的後裔 —— 而不是祖先。
140. Other ape beings resulted from natural evolution in the hominid line.
其他猿猴生物則由原始人類自然進化而產生。
141. Your researchers and scientists have already found many intermediate mutations between human beings and ape beings, but usually only as skeletons or partial skeletons.
你們的研究人員和科學家已經發現很多人類和類人猿之間的突變,但通常只有骨骼或局部的骨骼。
142. These intermediate mutations – part human being, part ape being – are known to the people under names such as Africanus, Peking man, and Neanderthal, etc.
這些突變(部分人類,部分猿猴的生物)名字已經眾所周知,諸如非洲人、北京人和尼安德塔人等。
143. Four different kinds of these have survived over all past millennia, and their descendants still live today, but to be sure, no longer in large hordes but rather only in isolated or very small groups.
其中四個不同的種類在過去存活了數千年,而他們的後代至今仍然存在,但是當然不再成群結隊,而是分開或者一小群。
144. They are so wild and shy that they will hardly ever see humans.
他們很野性而且害羞,他們幾乎再沒有見過人類。
145. Humans have given them special names:
人類給予他們一些特別的名字。
146. Yeti, etc.
如:雪人等。
147. The Evas, along with Earth-created hominid creatures, were nothing more than very wild descendants of those who were outcast thousands of years ago, from whom, at that time, any aid was withdrawn.
那些"夏娃"與那些地球原生的原始人類生物,只是一些幾千年前被放逐而且非常野性的外星人後裔,在那個時候,所有的援助都從地球撤離了。
148. They were like wild animals that lived in large hordes.
他們就像是群居的野生動物。
149. When our ancestors finally established themselves on Earth, they broke a strict law and used force on these beings.
當我們的祖先後來回到地球上定居,他們才打破嚴格的規定,對這些"生物"使用武力。
150. That is, that in spite of their wildness, they somehow cast the beautiful female beings under their spell and mated with them.
就這樣,儘管他們具有野性,但出於某種未知的原因,一些美麗的女性"生物"被選來與他們交配。
151. This led to the first higher developed ancestors of today's human beings.
於是帶來第一批較高發展的人種,也就是今日人類的祖先。
152. In the old ancestral language, they were called "Adam," meaning Earth human being.
在古老祖先的語言中,他們被稱之為"亞當",意思就是"地球的人類"。
153. At first, this designation remained as a name, and this is still used by you today.
最初,這個稱呼是一個名字,而至今仍然被你們使用。
154. Because our ancestors were mixed races of various colors and sizes, however, they naturally also witnessed, completely according to their characteristics, different colors and races of different sizes.
因為我們的祖先本身就是很多不同膚色與高矮種族的混合,所以,他們自然也成了見證,完全根據他們的特徵,有著不同的膚色與高矮。
155. The smallest ones were 50 cm high, while the largest and most vicious ones reached to twelve meters.
最小的只有五十公分,最巨大與最兇惡的達到十二公尺之高。
156. Their appearance was also different, and many kinds of them were only remotely reminiscent to human forms.
他們的外表也不一樣,他們有很多只能令人聯想到一點點人類的外形。
157. One let them die out or killed them when they became too vicious.
當他們過份兇惡的時候,有人會殺死他們或使他們滅絕。
158. They often hid themselves in far remote areas and survived for thousands of years, since their average age was about 1,500 years.
他們常常隱藏在偏遠的地區,並且存活數千年之久,因為他們的平均年齡大約有1,500歲。
159. But gradually, they also became victims of the time or of the people.
但漸漸地,他們成為了時間或者是人們的犧牲品。
160. The last of the vicious ones, whose life was ended by force, died a little more than 230,000 years ago.
這後一個兇惡的人種,他的生命已在大約23萬年前多一點,被武力所結束。
161. Today, to our knowledge, only seven such beings of the old human life forms live on the Earth, where they remain so well hidden that they will never be found with certainty and will one day die a peaceful death, and indeed, without descendants, for they have become too old and passive for propagation.
今天,以我們所知,只還有七種這些古老的人類生活在地球上,他們仍然好好地隱藏著,幾乎不可能被發現,而總有一天會平靜地死去。他們沒有後代,因為已經太古老,並且不怎麼能繁殖。
162. More often than these giants, Titans, and Cyclopes, as you call them, were the simple tall men.
通常這些巨人、泰坦和獨眼巨人,如你們所稱,純粹只是高大的人。
163. They often served great and power-hungry rulers.
他們通常都是被統治者所利用。
164. They were called "Goliaths" and were especially used for purposes of war.
他們被稱為「歌利亞」(聖經記載中大衛殺死的巨人),而且特別是用於戰爭。
Billy:
Thanks, that was very detailed, Semjase. But now, I still have a question about the future. Can you tell me some things about the future, which lay ahead for the people and the Earth?
謝謝,這非常詳細,Semjase,但是現在,我仍然有一個關於未來的問題,妳可否告訴我一些關於即將在地球與人類面前發生的事?
Semjase:
165. Now you really bring me into a quandary.
現在你真是讓我左右為難了。
166. For many things, it is good for one to know them in advance, but for many other things, it is advisable not to know them, if one doesn't know exactly that he can confront the knowledge properly.
有很多事情,預先知道是好的,但是也有很多事,不知道反而是明智的;如果一個人不確切知道未來,他反而能夠正確地運用已有的知識。
167. I can very well entrust you with what the future brings for you, but for other people, that is, without a doubt, a dangerous imposition.
我可以充分信賴你,告訴你未來會發生什麼事,但是對於其他人,毫無疑問會很危險。
Billy:
I wouldn't like to know every detail, just a few things from a general point of view.
我不需要知道得非常詳細,只需一個很普通的角度來看幾件事。
Semjase:
168. Nevertheless, I must think about this first and also consult the others.
無論如何,我必須要先考慮一下,並且與其他人商量過才行。
Billy:
Of course, Semjase, I don't want to tempt you into something that wouldn't be right for you.
當然,Semjase,我不想你為一些對你而言不正確的事而讓你冒險。
Semjase:
169. That wouldn't be so easy, but still, I thank you.
這並不是太容易,但我仍然要謝謝你。
170. We have found just the right person in you, and I am very happy about that.
我們已經找到適合的人選;那就是你們的團隊,而我對此非常高興。
171. You belong to a group of people who deal with border sciences and spiritual sciences.
你們是屬於一群處理邊緣科學與靈性科學的人。
172. I have often striven around the interests of this group and have found that it is the only one in this form.
我經常爭取有關這類團體的利益,而發現你們是唯一以這種形式運作的團隊。
173. You work on a very realistic basis and unconventionally.
你們的工作建基於一個非常現實的基礎上,而且不落俗套。
174. I have assessed that other groups of the same kind deal, unfortunately, with things that have fallen to the unreal.
我評估過其他同類型的團體,不幸他們都已經沉迷於虛幻之中。
175. They often carry out experiments that they themselves can't even understand and for which they usually search for false explanations.
他們常常進行一些甚至自己都不了解的實驗,而且經常尋找錯誤的解釋。
176. But this isn't further surprising because in these groups, there are virtually only people who have succumbed to a delusional faith and to the erroneous teachings of the religions.
但這並不令人驚訝,因為這些團體裡,幾乎只是那些聽信錯誤教義與虛幻信仰的人。
177. I congratulate your group, which approaches every subject so unconventionally and realistically, not in a mystical form, as others do.
我恭喜你們的團隊,不落俗套且實事求是地著手處理每一個課題,而不像其他團隊那樣,以一種神秘的形式運作。
178. You are on the right track – and keep it in such a way.
你們在正確的軌道上 —— 要繼續以這一種方式保持下去。
Billy:
Thanks, Semjase. May I still ask you another question, or was that your farewell speech for today?
謝謝,Semjase,我可以繼續問你別的問題,還是剛才是你今天的告別演說?
Semjase:
179. You amuse me with your peculiar sense of humor.
你用你獨特的幽默感在逗我。
180. Just ask further, because I still have some time.
儘管再問,因為我仍然有一些時間。
Billy:
You've mentioned our group just now; exactly from there comes my next question, just as it did before: how does it behave with the "spirit world" and with the so-called tape recorder voices; can you give me exhaustive information about this?
妳剛才提到我們這一團隊;我的下一個問題正是從他們而來:所謂「靈魂世界」它如何運作?而那錄音機的聲音;又是怎麼回事?妳可否給我有關的詳盡資料?
Semjase:
181. Not in such a way as you would like; nevertheless, I can tell you a few things that you can retransmit.
我可以告訴你一些;但不是以你想要的那種方式,而你可以將其傳達出去。
182. There are, unfortunately, very many things that a human being may first experience once he has become spiritually thinking and has developed his spiritual knowledge and spiritual wisdom in the necessary form.
很不幸,在很多事情上,一旦一個人有了第一印象,往往會影響他這方面的思考;因此這裡關於靈魂方面的說法,將會被以這種模式發展成靈魂方面的知識和靈魂方面的智慧。
183. Therefore, I have to conceal many things – unfortunately, also from you.
所以,我不得不隱瞞很多東西 —— 包含你所提的部分。
184. A"spirit world", as you call this, does not exist.
而你所稱的「靈魂世界」並不存在。
185. There are only the fine-material worlds in this regard.
在這方面,只有一些「細質的世界」。
[中譯者註:意義同佛教名詞"色界"(rupa-loka);另外在其上有"無色界"(arupa-loka),在其下有"欲界"(kama-loka)]
186. These are worlds that lie in other dimensions and accommodate disembodied spirit forms.
這些是存在於其他維度,並能容納無實體的靈魂體的世界。
187. When a spirit leaves a material body, it can't just settle down anywhere; it must inhabit a body again, or it goes into a fine-material world – a world of spirit forms, of which there are countless ones.
當靈魂離開了物質的身體,它不能就這樣隨處漂流;它必須再次進入一個身體內,或者進入「細質的世界」(一個靈魂體的世界),那裡有數之不盡的靈魂。
188. There, the spirit lives as its own form for so long, until it returns again into a newly created host body.
在那裡,靈魂以它長久以來的形式存活著,直至再次進入一個新生的身體。
Billy:
Aha, that is to say that a person won't always have the same material body and the same personality, if I understand correctly, for you just said a newly created body.
呀哈,這就是說一個人不會總是有一具同樣的身體和同樣的人格,如果我對妳剛剛所說的一個"新生身體"的理解是正確的話。
Semjase:
189. Right.
正確。
190. That is, each spirit form normally has a dwelling (body) that is specifically tailored to it, in which it lives out its life in a material form.
就是這樣,每一個靈魂體一般都有一個專門為它量身訂作的居所(肉體),在其中它以物質形式存活一生。
191. Over an entire main period, it can be tracked that the facial features of the host body aren't always alike and, thus, that they change very noticeably.
在整個主要時期,可以追朔到宿主肉體的面部特徵並非經常一樣,他們都有非常顯著的變化。
192. This applies until a high spiritual state is reached.
這會持續直至達到一個高級的靈魂狀態為止。
193. Not with very low but rather with very high spiritual states do the faces of all host bodies of the various spirit beings begin to resemble each other.
越是高層次的靈魂體,其不同肉身的面孔,彼此逐漸趨於相似。
194. Once a host body has died, the spirit escapes from it and normally enters a fine-material world.
一旦一個宿主的肉身死亡,靈魂會從中脫離,通常會進入一個「細質的世界」。
195. Even there, it has to live through certain periods again, before it can take up a host body once more.
即使在那裡,在它能夠再次進入一具宿主肉身之前,它仍然要再存活一些時期。
196. But if a host body is destroyed prematurely, by force and by any circumstances, before it becomes animated by the spirit on the 21st day, then it may happen that the spirit in question doesn't seek another host body as soon as possible and doesn't inhabit this but that it continues to linger in the realm of the other world.
但如果一具宿主肉身,在它第二十一天靈魂變得活躍之前,過早被意外強行毀掉,可能會發生靈魂沒有及時進駐這具肉身的問題,但是它仍會繼續停留在另一個世界。
197. Thus, it won't penetrate into bodies that are already occupied.
因此,它不會進入已經被佔據的身體。
198. Therefore, this won't have as a consequence that two spirits live in a single host body and cause serious confusion.
所以,不會發生兩個靈魂存活在一個宿主肉身內而產生嚴重的混亂現象。
199. Herein, there are, therefore, no possibilities.
因此,這方面是沒有任何的可能性。
200. This, then, is the normal process, by which the spirit goes back into the fine-material world and, in turn, spends a further period of learning there.
而後,正常程序下,靈魂會回到細質的世界,並且依次在那裡進行另一階段的學習時期。
Billy:
That approximately coincides with my conceptions, though not very precisely. But how about this: can we enter into any connections with a spirit being's overall consciousness block in a fine-material world?
大概與我的想法一致,雖然並不是很準確。這個是怎麼樣的:我們可以與任何一個在細質世界內靈魂的"總體意識區塊"(overall consciousness block)連接?
Semjase:
201. Sure, but that isn't recommended.
當然,但是不建議這麼做。
202. The overall consciousness blocks, which enter into fine-material worlds like the spirit forms themselves, are no further along in their knowledge than they were in their material lives.
靈魂體進入細質世界的"總體意識區塊",它們的知識並沒有比在物質世界生活時更進一步。
203. Thus, they still own falsehood and lies and deliberate deception.
因此,他們仍然擁有虛假與謊言,以及蓄意的欺騙。
204. Therefore, those who are materially alive shouldn't want to get in touch with them because they could be lied to in large measures.
所以,那些活著的人不應該與他們取得聯繫,因為他們很可能會說謊。
205. It would be better for those who are living to increase their knowledge through their own consciousness work than to want to acquire it in this way because they would often only be misguided.
活著的人最好透過他們自己的自覺行為來增加他們的知識,比嘗試這樣去取得更好,因為他們通常只會被誤導。
206. Of course, there are also overall consciousness blocks that could respond in a sincere attitude.
當然,仍然有些"總體意識區塊"會以真誠的態度回應。
207. However, those are few, and they live in higher spheres because they are further developed in consciousness.
然而,這只是很少的一部分,而他們生活在更高的領域內,因為他們在意識上已經有進一步發展。
208. On the whole, however, there are few people who can enter into connection, as you say, with the deceased.
基本上,只有少數人可以與死者取得聯繫。
209. Although you have large spiritualistic circles on Earth, these are often nothing more than deception.
雖然在地球上你們有大量的通靈人士從事活動,但是這些往往只不過是些騙局。
210. Many mediums are just very good actors and indulge in the desires of their theatrical drives.
很多靈媒只是非常好的演員,並且沉迷於他們的表演。
211. A fact that, unfortunately, can only be proven by Earth people with great difficulty.
很不幸的是,地球人很難去證明虛實。
212. But on the other hand, there are also those mediums who imagine tremendous things and then imitate these in trance states in all perfection, by what means deception takes place again.
但在另一方面,也有一些靈媒,他們想像非常多的東西,然後他們可以在恍惚狀態再作完美地模仿。
213. Moreover, their imagination often goes so far that they can name actual things of other people from the past or the future and even imitate their voices in all perfection.
而且,他們的想像力往往很厲害,他們能夠說出其他人過去或是未來的事,更甚至完美地模仿他們的聲音。
214. But also not to be forgotten are those mediums who are exploited by any beings of other dimensions maliciously or just for fun.
但是不要忘記,這些靈媒只是被其他維度的生命惡意地利用,或是純粹為了好玩。
215. There are actually only very few real mediums, and mostly, they are almost unheard of.
實際上只有極少數真正的靈媒,而且大多數,他們幾乎都默默無名。
216. But the fact that they are real mediums, they are silent over this and make no fuss about it.
真正的靈媒,他們總是對此保持低調沈默,沒有小題大作。
Billy:
So then, I haven't been mistaken. – But now, what about the tape recorder voices?
那麼,我沒有弄錯;但是現在,那錄音機的聲音是怎麼一回事?
Semjase:
217. Here, many points play together.
這裡有很多東西相互作用。
218. Most cases of tape recorder voices are to be attributed quite clearly to the radio that is well-known to you, whereby often so-called radio amateurs play their jokes.
你很清楚,大多數情況下,錄音機的聲音明顯是因為無線電傳送所致,通常是業餘無線電愛好者所開的玩笑。
219. But on the other hand, many of these contacts occur by means of communication of space travelers.
但是另一方面,也有很多這類接觸發生,那就是太空旅者的通訊。
220. However, the thoughts of people also play an important role and often push themselves out as audible voices – and indeed, not just on tape recorders but freely audibly.
然而,人們的想法同樣扮演一個非常重要的角色,而且往往將之變為可聽見的聲音;而事實上,聲音不只在錄音機上,而是加了無限的想像。
221. Often, such a person who directs a question to a tape recorder unconsciously imitates a voice, which is somehow congenial to him, in his thoughts and directly transfers the answer, which he wants to have or hear, to the tape recorder.
通常,這些人對著一部錄音機想著一個問題,無意識地模仿一個聲音,不知何故,他的思想內直接傳送而來的,就是想從錄音機中聽到的答案一樣。
Billy:
But how is that possible?
但是,這怎麼可能?
Semjase:
222. If I had to explain that to you, then it would be extremely complicated and lengthy.
如果我要向你解釋,那會極之複雜和冗長。
223. I can tell you, however, that every receiver is also a transmitter and can catch the highest thought-vibrations and transmit them into a receiver.
但是,我可以告訴你,每一個接收者同時是一個傳送者,而且可以抓住最高的思想振動,並將之傳送給接收者。
Billy:
So then, tape recorder voices wouldn't be phenomena of another dimension or spirit world?
那麼,錄音機聲音不是另一個維度或靈魂世界的現象?
Semjase:
224. That isn't entirely correct because just as there are genuine mediums who are able to enter into connection with other dimensions, there are also genuine tape recorder voices that really come from overall consciousness blocks of different fine-material worlds.
這不完全正確,因為就如同有真正的靈媒能夠與其他維度取得聯繫一樣;同樣也有真正錄到的,確實是來至不同細質世界的總體意識區塊的聲音。
225. However, there are just as few of these as genuine mediums.
然而,這些真正的靈媒只屬少數。
226. Also in this area, unfortunately, a lot of deception and charlatanism are pursued, which is to be attributed to the renowned obsession, etc. of human beings.
同樣在這個領域,不幸有很多是欺詐與江湖騙術,這都歸咎於人類對名譽的著迷。
227. The electronic voice phenomena known on Earth are usually based on calling up the memory bank (Akashic Records) and are worthless and meaningless, while the genuine recordings are kept secret.
地球上所知的電子聲音現象通常是由記憶庫(阿卡西記錄)中抽取,並無價值與意義,而真正的記錄是保密的。
Billy:
Thanks, Semjase. You've really helped me a great deal.
謝謝,Semjase,妳幫了我一個大忙。
Semjase:
228. For today, it must also be enough, for duty calls me again.
今天已經談的足夠了,因為我又要去別處履行我的職責。
229. I'm sorry to tell you, however, that I can't come for the next 24 days because I must undertake a long journey to … (don't mention the place, please) because a certain task is incumbent upon me, which one has laid on me.
很抱歉,我在接著的24天內不能來了,因為我必須到…(請不要提及這個地方)進行一個漫長的旅程,因為在我面前有一個特定的任務,我非去不可。
Billy:
Too bad, Semjase. But then, may I still ask you one or two questions, since I won't see you for so long?
太糟糕了,Semjase,但是我仍然要問妳一個或兩個問題,因為我將會有很長的時期見不到妳。
Semjase:
230. Sure.
當然。
231. Just ask; there's still enough time for that.
儘管問;仍然有足夠的時間。
Billy:
Thanks. – So far, you've never told me where you actually always stay, when you're not carrying on conversations with me. May you give me information about this?
謝謝。到目前為止,你從未告訴我,當你不用與我進行會談時,妳通常逗留在哪裡,對此妳可否讓我知道?
Semjase:
232. In part, I can enlighten you about that; that is, I may tell you everything, but you may not disclose everything.
在某程度上,我可以告訴你;我也許告訴你一切,但是你卻不能披露一切。
233. We have our bases on Earth, as well as on many other planets, where we stay continually.
我們在地球上有我們的基地,就如很多其他星球上一樣,我們在那裡持續逗留。
234. We also have such a base in this country, Switzerland.
我們同樣有一個基地在這個國家,瑞士。
235. It is located high up in the mountains in ___.
它就處於 ___ 山的高處。
236. There, I have my main whereabouts, when I'm on the Earth.
當我在地球時,我主要待在那裡。
237. In addition, we still have some other major stations that are distributed all over the world.
另外,我們還有一些其他主要的駐地分佈在世界各地。
238. However, they are all built so securely that it would be impossible to find them when one doesn't know them exactly.
但是,他們全部建造得很安全,當你不確切知道它們時,你不可能找到它們。
239. Moreover, I also travel a lot and have to fulfill my duties on various worlds.
此外,我也去過很多地方,在不同的世界履行我的職責。
240. I also often go on visits to the homeland, as you tend to say, and thus, I also often stay in the Pleiades, as we tentatively call it.
我也經常回家鄉探望,就像你們一般的說法,因此,我也常常留在昴宿星,我們姑且這麼稱呼它。
Billy:
Can we talk about it later in more detail?
我們遲些可以說詳細一點嗎?
Semjase:
241. Of course; only, a lot will be intended for your ears only.
當然;很多只有你能知道,只有你。
Billy:
Nevertheless, I am curious. – To be sure, the time will become somewhat long for me.
雖然如此,我很好奇。可以肯定,時間對我來說將會有點長。
Semjase:
242. I'll remain with you in thought-connection.
我仍然會與你作思維聯繫。
Billy:
That's at least a comfort, but can you still explain to me what the so-called "spirit music" is all about?
這至少是一種安慰,但是妳可以再向我解釋所謂的「靈魂音樂」是什麼嗎?
Semjase:
243. Spirit music?
靈魂音樂?
244. What's that?
這是什麼?
Billy:
It's always maintained that certain people would receive musical pieces transmitted from the beyond.
它通常使某些人可以持續接收到從遙遠處而來的音樂片斷。
Semjase:
245. Oh, I see.
噢,我懂了。
246. You call that "spirit music?"
你們叫作「靈魂音樂」?
Billy:
So certain people call it. But what's this about?
某些人這樣叫,但這是什麼?
Semjase:
247. It concerns an evil deception, self-deception, or self-suggestive delusion and the like.
它涉及到一種惡意的欺騙,自我欺騙,或是自我暗示、妄想和類似的東西。
248. Spirit beings don't transmit any music to the living.
靈魂體不會傳送任何音樂給活人。
Billy:
Good – and what's up with the so-called display of power, magic?
很好,那麼所謂的魔力顯示呢,是魔法嗎?
Semjase:
249. You are very well oriented over that, and you know full well that such doesn't exist in the form that is generally accepted and defended.
你的方向很好,而你完全知道並不存在普遍被認定的那種形式。
250. Magic is based on consciousness-related plus and minus forces…
魔法是基於意識力量的增與減…
Billy:
So good and evil or, in other words, positive and negative?
所以善與惡,或者換句話說,正面與負面?
Semjase:
251. I already said that you are very well oriented over and knowing of it.
我已經說了,你對此的方向很好,而且很清楚。
Billy:
Nevertheless, I would like to talk with you about it.
不過,我還想與妳談談。
Semjase:
252. Sure, but we must postpone that to a later date, because now, I really have to go.
當然,但是我們必須順延至下次,因為現在我真的要走了。
Billy:
Of course, Semjase. – I don't want to bring you into a quandary.
當然,Semjase,我不想為難妳。
(本篇接觸報告結束)
---
英文資料來自
http://www.futureofmankind.co.uk/Billy_Meier/Contact_Report_7
中文編輯自
https://www.facebook.com/photo.php?fbid=159099397573968&set=a.153695738114334.35008.111403819010193&type=1&permPage=1
與
https://www.facebook.com/photo.php?fbid=159099510907290&set=a.153695738114334.35008.111403819010193&type=1&permPage=1